Conference Venue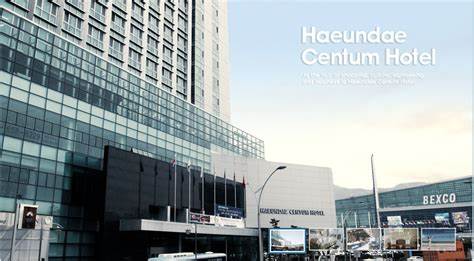 Haeundae Centum Hotel
Add: 20, Centum 3-ro, Haeundae-gu, Busan, Korea 48060
Tel: 82) 51-720-9000
Haeundae Centum Hotel is located in Busan, it offers a cafeteria, fitness center, sauna, quality business accommodation and a variety of internal shopping malls. It is only a 1-minute walk from the Centum City Subway Station on line 2.
The hotel offers non-smoking rooms. Guest rooms are equipped with living room, kitchen and bedroom. All rooms offer free WiFi and Internet connection. Guests can visit a variety of shopping venues around the hotel, including the Shinsegae Department Store, the Shinsegae Duty Free Shop, the Shinsegae Mall and the Lotte Department Store. There is also a local market near the hotel.
Haeundae Centum Hotel is only one minute's walk from Busan Exhibition & Convention Center and 3.5 kilometers from the famous Haeundae Beach and Gwangalli Beach. The Museum of Art, Busan Cinema Centre and Multiplex Cinema are all three minutes' walk away.
There is an airport luxury bus stop in front of the hotel and it will take 50 mins to airport.
If you want to order accommodation in Haeundae Centum Hotel, please contact with hotel, they will provide discount for ICDTE2021 participants.