Prof. Murali Krishnamurthi
Northern Illinois University, USA
Murali Krishnamurthi received a bachelor's degree in mechanical engineering in 1978 from University of Madras, a master's degree in industrial and systems engineering in 1982 from Ohio University, and a doctorate in industrial engineering in 1988 from Texas A&M University.
He is Professor of Industrial and Systems Engineering and Permanent Provost for Faculty Affairs at Northern Illinois University in DeKalb, Illinois, U.S.A. His teaching and research interests include project management, information systems, system simulation, optimization techniques, faculty development, and distance learning.
Dr. Krishnamurthi is a member of the American Association for Engineering Education (ASEE) and the Professional and Organizational Development (POD) Network. In 2011, he received the Presidential Teaching Professor Award and the Deacon Davis Diversity Award at Northern Illinos University.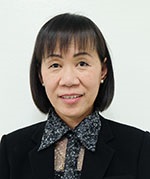 Prof. Budsaba Kanoksilapatham
Silpakorn University, Thailand
Budsaba Kanoksilapatham is currently a professor with the English Department, Faculty of Arts, Silpakorn University. She completed the bachelor's degree in English (Hons.) at the Faculty of Arts, Chulalongkorn University. She received the master's degree in linguistics and EFL from Southern Illinois University at Carbondale and the Ph.D. degree in linguistics with a concentration in applied linguistics from Georgetown University, USA. Her research interests include discourse analysis, sociolinguistics, phonetics, and language teaching. Her most recent books are Pronunciation in Action and English Sociolinguistics at Work. Her research articles were published in international journals including English for Specific Purposes and The IEEE Transactions on Professional Communication.