Welcome to Bangkok, Thailand
Bangkok is one of the world's top tourist destination cities. MasterCard ranked Bangkok as the top destination city by international visitor arrivals in its Global Destination Cities Index 2016, ahead of London with more than 21 million overnight visitors. Euromonitor International ranked Bangkok fourth in its Top City Destinations Ranking for 2016. Bangkok was also named "World's Best City" by Travel + Leisure magazine's survey of its readers for four consecutive years, from 2010 to 2013. As the main gateway through which visitors arrive in Thailand, Bangkok is visited by the majority of international tourists to the country. Domestic tourism is also prominent. The Department of Tourism recorded 26,861,095 Thai and 11,361,808 foreign visitors to Bangkok in 2010. Lodgings were made by 15,031,244 guests, who occupied 49.9 percent of the city's 86,687 hotel rooms. Bangkok also topped the list as the world's most popular tourist destinations in 2017 rankings.
Bangkok's multi-faceted sights, attractions and city life appeal to diverse groups of tourists. Royal palaces and temples as well as several museums constitute its major historical and cultural tourist attractions. Shopping and dining experiences offer a wide range of choices and prices. The city is also famous for its dynamic nightlife. Although Bangkok's sex tourism scene is well known to foreigners, it is usually not openly acknowledged by locals or the government.
Grand Palace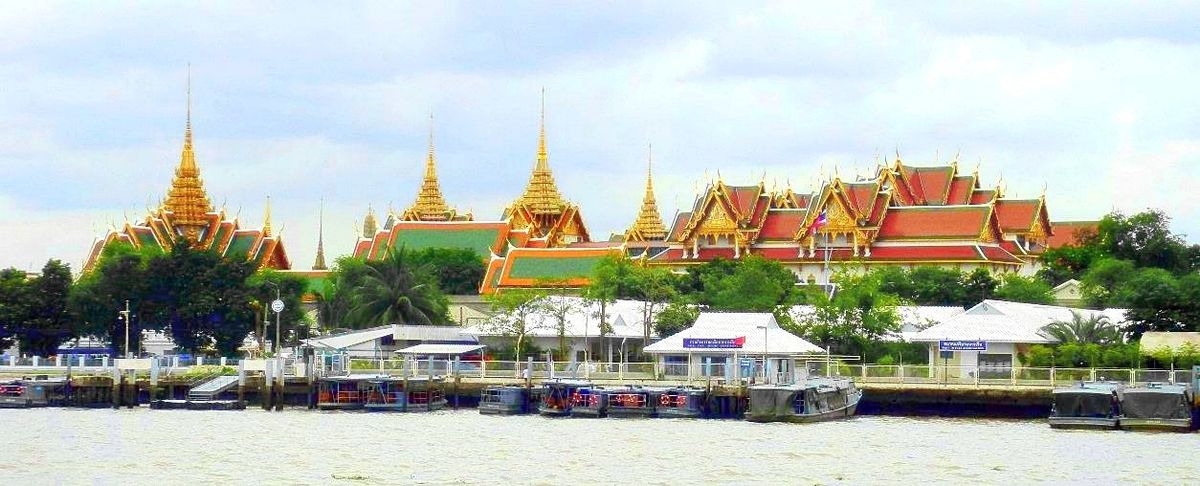 The Grand Palace (Thai: พระบรมมหาราชวัง, rtgs: Phra Borom Maha Ratcha Wang) is a complex of buildings at the heart of Bangkok, Thailand. The palace has been the official residence of the Kings of Siam (and later Thailand) since 1782. The king, his court and his royal government were based on the grounds of the palace until 1925. King Bhumibol Adulyadej (Rama IX), resided at the Chitralada Royal Villa and his successor King Vajiralongkorn (Rama X) at the Amphorn Sathan Residential Hall, both in the Dusit Palace, but the Grand Palace is still used for official events. Several royal ceremonies and state functions are held within the walls of the palace every year. The palace is one of the most popular tourist attractions in Thailand.
Taling Chan Floating Market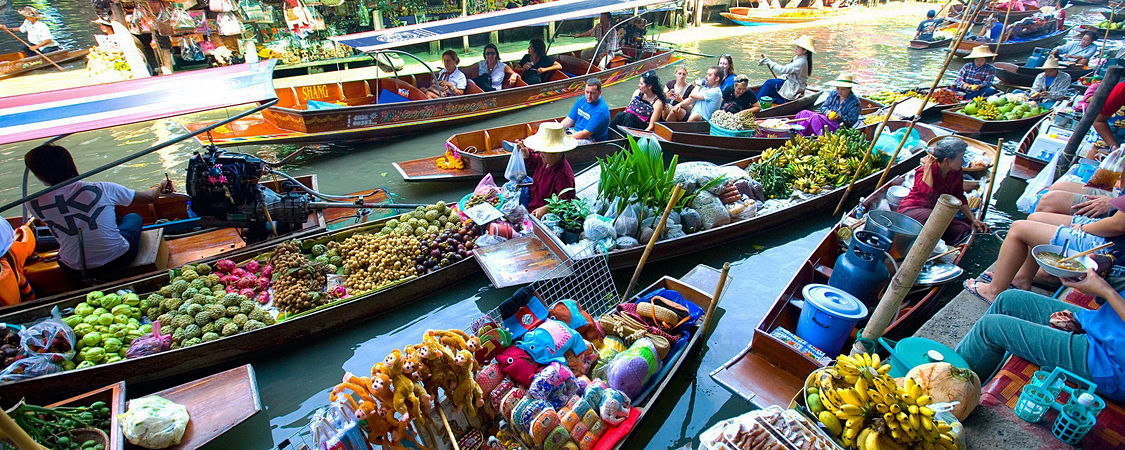 Taling Chan Floating Market is on the canal Khlong Chak Phra Canal in front of the district office. It is open only on weekends from about 08:30 to 16:00. Orchard produce such as fruits, and vegetables, as well as fish are sold from boats. There is a live traditional Thai music performance from 11:00 to 14:00. The idea for the floating market here was initiated by Chamlong Srimuang in 1987 to honour King Bhumibol's 60th birthday. This is a new attraction since floating markets, an old way of life of the Thai people, had vanished entirely from Bangkok for quite a long time.
Wat Phra Kaew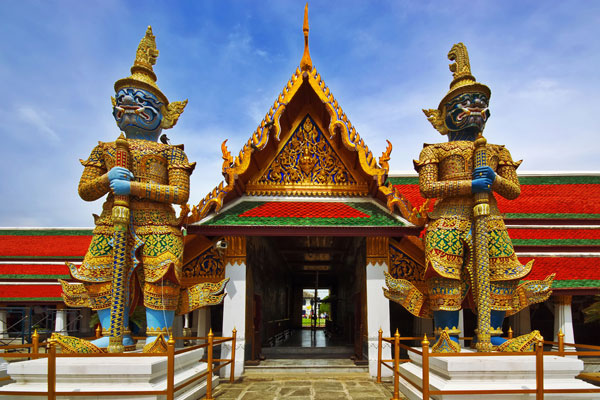 Wat Phra Kaew (English: Temple of the Emerald Buddha; full official name Wat Phra Si Rattana Satsadaram) is regarded as the most sacred Buddhist temple (wat) in Thailand. The Emerald Buddha housed in the temple is a potent religio-political symbol and the palladium (protective image) of Thai society. It is located in Phra Nakhon District, the historic centre of Bangkok, within the precincts of the Grand Palace.
Wat Pho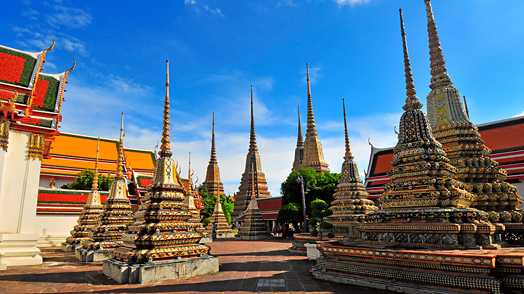 Wat Pho (Thai: วัดโพธิ์, IPA: [wát pʰoː]), also spelt Wat Po, is a Buddhist temple complex in the Phra Nakhon District, Bangkok, Thailand. It is on Rattanakosin Island, directly south of the Grand Palace. Known also as the Temple of the Reclining Buddha, its official name is Wat Phra Chetuphon Vimolmangklararm Rajwaramahaviharn. The more commonly known name, Wat Pho, is a contraction of its older name Wat Photaram (Thai: วัดโพธาราม; rtgs: Wat Photharam).